Tiempo aproximado de lectura:
3
minutos
La alineación de la recién anunciada Marvel Comics #1000 continúa creciendo, a medida que Marvel revela 22 nuevos nombres en un gráfico.
Aquí hay una lista de los equipos confirmados que trabajan en conjunto, seguidos de una lista de creadores individuales que también anunciaron su participación.
– Jason Aaron and Goran Parlov
– Kareem Abdul-Jabbar and Raymond Obstfeld and Mattia De Iluis
– Saladin Ahmed and Steve Rude
– Ed Brisson and Jorge Fornes
– Kurt Busiek and Cameron Stewart
– Donny Cates and Geoff Shaw
– Peter David and Adam Kubert
– Kelly Sue DeConnick and David Lopez
– Tom DeFalco and Ron Frenz
– Gerry Duggan and Chris Samnee
– Al Ewing and Daniel Acuña
– Al Ewing and Cafu
– Al Ewing and Joshua Cassara
– Al Ewing and Mike Deodato Jr.
– Al Ewing and Ron Garney
– Al Ewing and Carlos Pacheco
– Al Ewing and George Perez
– Al Ewing and Leonardo Romero
– Al Ewing and Jesus Saiz
– Al Ewing and Cory Smith
– Al Ewing and Christian Ward
– Al Ewing and Chris Weston
– Eve L. Ewing and Jen Bartel
– Kieron Gillen and Doug Braithwaite
– Patrick Gleason
– Glen David Gold and Chris Mooneyham
– Adam F. Goldberg and Adam Riches
– Allan Heinberg and Jim Cheung
– Tini Howard and Kia Asamiya
– Joe Hill and Mike Allred
– Jonathan Hickman and Dustin Weaver
– James Monroe Iglehart and Oscar Martin
– Jason Latour
– Jeff Lemire
– Jeph Loeb and Tim Sale
– Phil Lord and Christopher Miller and Javier Rodiguez
– Brad Meltzer and Julian Todino Tedesco
– Ryan North and James Harren
– Greg Pak and Takeshi Miyazawa
– Matthew Rosenberg and Leinil Francis Yu
– Alex Ross
– Rainbow Rowell and Kris Anka
– Gail Simone and David Baldeon
– Walt Simonson
– Dan Slott and Marcos Martin
– Charles Soule and Steve McNiven
– J. Michael Straczynski and Ed McGuinness
– Tom Taylor and Juann Cabal
– Taboo and Geoffery Veregge
– Roy Thomas and Rod Reis
– Kelly Thompson and Pepe Larraz
– Mark Waid and John Cassaday
– David F. Walker and J.J. Kirby
– Toby Whithouse and Alan Davis
– Jeremy Whitley and Irene Koh
– Chip Zdarsky
– Jim Zub and Nick Bradshaw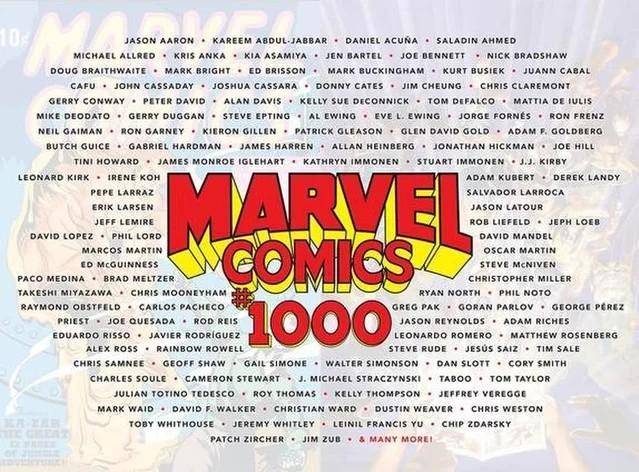 Otros nombres mencionados individualmente, pero no confirmados para escribir y dibujar su propia historia, son: Joe Bennett, Mark Bright, Mark Buckingham, Chris Claremont, Gerry Conway, Steve Epting, Neil Gaiman, Butch Guice, Gabriel Hardman, Kathryn Immonen, Stuart Immonen, Leonard Kirk, Derek Landy, Salvador Larroca, Rob Liefeld, David Mandel, Paco Medina, Phil Noto, Sacerdote, Joe Quesada, Jason Reynolds y Eduardo Risso.
Marvel Comics planea agregar más creadores entre ahora y su fecha de publicación prevista para agosto.